Jio 5G Vs Airtel 5G Comparison, With the launch of 5G, the next-generation telecommunications service that offers internet speeds beyond broadband, there has been a comparison between Jio 5G and Airtel 5G. The comparison covers various aspects such as speed, plans, offers, pricing, network quality, and more. While both telecom companies have launched their 5G services in India, Jio's network is based on indigenous technology while Airtel has partnered with Ericsson for its 5G network. It remains to be seen which company will emerge as the leader in the Indian market with their respective 5G offerings. However, it is clear that the introduction of 5G will revolutionize the way we use our phones and access information on-the-go.
Jio 5G Vs Airtel 5G
Reliance Jio and Bharti Airtel are the only telecom companies that have been actively deploying 5G services in various cities. BSNL has announced its intention to launch 5G services in 2024, while Vodafone Idea (Vi) is not as proactive in their approach to rolling out 5G as Jio or Airtel. Keep reading to find out more about the comparison between Jio 5G and Airtel 5G.
After the successful implementation of 5G services across the country last year, prominent telecommunication companies Airtel and Reliance Jio are progressively introducing their services in urban areas. Both networks have their unique advantages, with Airtel catering to users throughout the nation for many years, while Reliance Jio has established a commendable reputation for providing cost-effective services.
Jio 5G Vs Airtel 5G Comparison
The purpose of this article is to provide you with a comprehensive comparison between Jio 5G and Airtel 5G. We will evaluate their speed, offers, pricing, plans, and overall quality. With India's swift transition from a 4G network to a 5G network, high-speed internet access will soon be accessible across the country. Both Airtel and Reliance Jio, two prominent telecom companies in India, currently offer 5G services. Let's determine which company, Airtel or Jio, can emerge as the winner in this competition.
Jio 5G Vs Airtel 5G Speed
Airtel commenced its 5G network operations on October 1, 2022, followed by Reliance Jio launching its 5G services on October 5, 2022, in four cities across India. Airtel initially introduced its 5G network in a total of eight cities.
When it comes to comparing the speed and coverage between Airtel and Reliance Jio, it appears that Reliance Jio has the advantage. Reliance Jio has invested close to half of the total amount of Rs. 88,000 crore and has acquired coverage in the 700Mhz band, capacity in the 3.5Ghz band, and high-speed internet capability in the 26Ghz mm-Wave band. According to research conducted by Ookla Broadcast Speed, Jio's 5G network is consistently fast, with an average speed of 600Mbps, while Airtel's average speed on their 5G network is slightly lower at 516Mbps.
Airtel VS Jio Network & Telecommunications Comparison
Airtel and Jio have a strong presence throughout India. Airtel is regarded as one of the leading telecommunications service providers in the country, with coverage nationwide. On the other hand, Jio has a notable presence in urban areas and is currently expanding into rural regions. Both companies have made substantial investments in their networks and are committed to enhancing their 5G coverage in the upcoming months and years.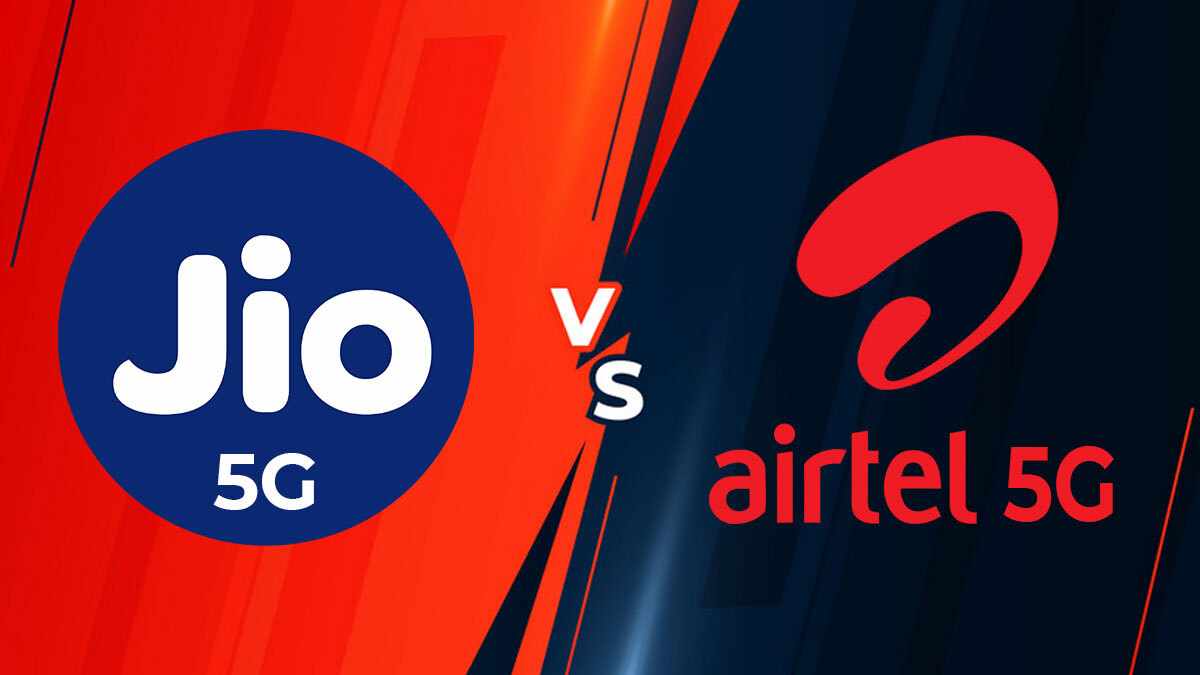 Jio 5G Vs Airtel 5G Network coverage
In terms of network coverage, Airtel 5G holds a notable edge over Jio 5G. Airtel's 5G network presently encompasses more than 600 cities and towns across the country, making it the provider with the widest coverage. On the other hand, Jio 5G is currently accessible in only a limited number of cities. Nevertheless, as Jio continues to expand its network, this situation may soon change.
Jio 5G Download
| | | |
| --- | --- | --- |
| Network | Download Speed | Upload Speed |
| Jio 5G | 1085 Mbps | 138 Mbps |
Airtel 5G Download Speed
| | | |
| --- | --- | --- |
| Network | Download Speed | Upload Speed |
| Airtel 5G | 837 Mbps | 119 Mbps |
Jio 5G Vs Airtel 5G Plans & Capabilities
At present, both Jio and Airtel have not disclosed any specific 5G plans. This means that you can still use your existing plans and benefit from the high speeds of 5G. However, there is a small detail to consider when it comes to Jio.
If you are using Airtel and have a 5G-capable device, you can enjoy access to 5G services at no extra cost. Conversely, for Jio customers with a 5G-compatible phone, it is necessary to have an active plan of Rs 239 or higher in order to utilize the high-speed capabilities of 5G.
Jio 5G Vs Airtel 5G Plans Pricing & Offers
Reliance Jio, the telecom company, has commenced the gradual rollout of its 5G services nationwide. In addition to this, the company has introduced the Jio 5G Upgrade Plan for users who wish to benefit from the 5G services, leaving behind their 4G counterparts.
Realme 11 Launch Date & Expected Price
Jio 5g Special Offer of Rs 61 Plan
Jio is now offering 5G speed for just Rs 61, providing an affordable alternative to the recharge plans above Rs 249. While these higher-priced plans come with unlimited data, the Rs 61 plan only includes data and does not offer additional benefits such as unlimited voice calling and SMS facility.
Airtel 5G Plan List
| | |
| --- | --- |
| Rs 249 | 2 GB Data for 24 Days |
| Rs 699 | 1.5 GB Per Day for 56 Days |
| Rs 799 | 2.5 GB per Day for 56 Days |
| Rs 849 | 1.5 GB Per Day for 84 Days |
| Rs 949 | 2.5 GB per Day for 84 Days |
| Rs 2399 | 1.5 GB per day for 365 Days |
Jio 5G Welcome Offer Recent Update
Jio, the telecom industry leader, has recently unveiled the Jio True 5G Welcome Offer. This exclusive offer allows eligible users to enjoy unlimited 5G data at lightning-fast speeds of over 1Gbps. However, it is important to note that the Jio 5G Welcome Offer is currently limited to specific cities and select users who have received an invitation. The Jio 5G Welcome benefit specifically caters to beta trial users who have been invited to experience the cutting-edge technology of Jio True 5G.
Jio 5G Vs Airtel 5G Coverage
Reliance Jio, the largest telecom company in the country, has introduced the most extensive 5G service to date. According to the company, residents of cities where Jio 5G is available will receive an invitation for the 'Jio Welcome Offer'. Reliance Jio aims to establish its 5G network nationwide by December 2023. Within just four months of its launch in October 2022, Jio True 5G has already reached approximately 230 cities across India. Meanwhile, Airtel is actively expanding its own 5G network and plans to launch services nationwide in the near future. Users in Airtel's 5G cities can now enjoy an ultrafast network experience.
Jio 5G Vs Airtel 5G Network Functions Equipment
Jio 5G Stand Alone: Reliance Jio is currently providing a standalone 5G service in the country, which is the most advanced version of 5G. This standalone 5G network has been built from the ground up with an end-to-end core 5G network. The equipment and network functions utilized have been specifically designed to cater to the requirements of 5G technology.
Airtel 5G Non-Stand Alone: ​​Airtel's 5G service utilizes the non-standalone approach, which enables the provision of 5G radio signals through the existing 4G network. Therefore, Airtel's 5G will operate on the pre-existing 4G networks.
Steps to Access Jio 5G & Airtel 5G in a Smartphone
In order to access Airtel or Jio 5G, the primary prerequisite is owning a smartphone that is compatible. Airtel has already published a list of devices that are compatible with its 5G network, while Jio has not done so yet. However, any 5G phone launched in 2022 should be compatible with Jio's 5G network.
Furthermore, users must be located in an area where 5G services are available. Users can verify the exact location of 5G services by utilizing the map section of the SpeedTest by Ookla app. If users fulfill these requirements and are Airtel subscribers, they can utilize Airtel's 5G services without any additional charges.
Jio users need to enroll in the invite-based Jio Welcome Offer to experience 5G. Jio will analyze the availability and compatibility of 5G in the user's area and device. If compatible, users can access Jio's 5G services by enabling the 5G option in their phone settings.
Benefits of 5G Network
In 5G, users will get high-speed internet and the fun of using their internet will be doubled.
5G users will be able to upload high definition video streaming, gaming, multiple chatting, photos in a few seconds.
Jio and Airtel have claimed that with launch of 5G, India's economic development will also get a boost.
5G will bring a big change in education, healthcare, manufacturing, agriculture, mobility sector.
5G can now run on all Android and Apple 5G enabled devices.
Jio VS Airtel Network Comparisons & Plans Offers
Airtel 5G utilizes advanced technologies like Massive MIMO, Carrier Aggregation, and 8×8 MIMO to deliver high bandwidth and speeds of up to 1 Gbps. With an impressive latency of only 2 milliseconds, it is ideal for low-latency activities such as gaming and streaming.
Additionally, Airtel 5G offers wider coverage compared to Jio 5G. While its maximum speeds can reach 1.2 Gbps, the latency is slightly higher at 4 milliseconds. The user's specific needs ultimately determine whether Airtel 5G or Jio 5G is the preferred choice. If speed and coverage are important, Airtel 5G is the better option, whereas Jio 5G is more affordable.
Summary
Airtel stands out as the top choice when it comes to 5G network coverage, speed, and data services. Airtel has effectively delivered greater value for customers' investments and achieved the highest possible 5G speeds nationwide. On the other hand, Jio's 5G network is still in its initial phases and is currently accessible only in limited areas. However, there is potential for the network to improve with time.